Rapid urbanization, growth in population is continuously leading to production of more waste. This waste needs to be managed well to promote hygienic surroundings & sanitization. To address this problem APCCI started collecting litter & garbage in the public areas on daily basis. The waste needs to be segregated properly at source and disposed off in a scientific manner or recycled. In an effort to make this initiative a citizen's movement APCCI has continuously engaged citizens. So people can click picture of any accumulated waste in public roads, footpaths, etc which is collected using vehicles which have been specially designed for this purpose. This initiative aims to make Pune city visibly clean thereby enhancing the beauty of the city.
The Cleaning of Roads and Chronic Spots includes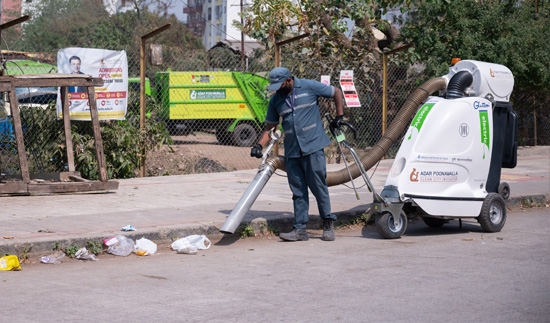 Roadside Litter Picking
Litter alongside the road in absence of litterbins or lack of awareness is a major cause of concern in any city. This waste includes disposable cups, wrappers, sachets, empty bottles, etc. This gives ugly look to pathways and footpaths. APCCI is using state-of- the-art walk along litter picking machines to pick the litter. Daily 8 km of roads are covered by each machine. 110 such machines are deployed in the city presently.

Cleaning The Chronic Spots
While awareness about cleanliness and hygiene is important, many places in the city see waste been thrown in corners or open plots due to absence of door to door collection or absence of waste management system in their own apartments. There are some places called as 'Chronic Spots'. APCCI has surveyed all these chronic spots and coded them in sequence. These spots are being monitored on daily basis and cleaned as per pre-decided schedule with help of machines. These are equipped with necessary tools and tackles to ensure thorough cleaning of such chronic spots. This mostly involves all type of household waste including dry and wet waste. APCCI has coordinated with Urban Local Bodies (ULB's ) to segregate waste at such spots so that dry waste can easily suctioned by machines and disposed off to ULBs recycling facilities.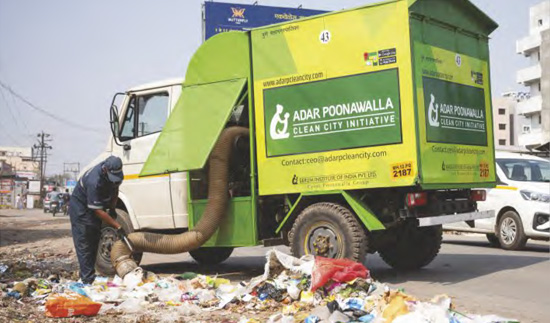 Feeder Point Support : APCCI is providing support at the 'Feeder Points' where waste collected is brought by NGOs to be shifted to transfer station.

Litterbins Installation and Cleaning
After studying the pattern of street side waste and waste disposal habits of citizens, APCCI has ergonomically designed litterbins to serve the pedestrians. These are compartmentalized litterbins with 60 liters capacity of each Wet and Dry waste with pictorial representation and instructions to ensure proper use of the bins. These bins are provided with area wise code numbers so that their cleaning can be monitored easily. These litterbins are beings cleaned and mopped on daily basis by APCCI waste warriors.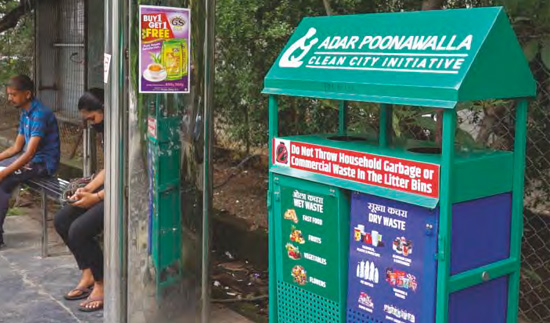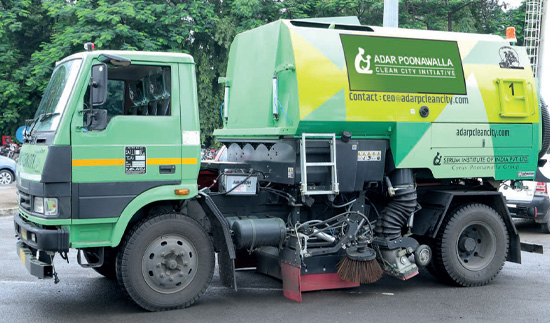 Road Sweeper
APCCI cleans the roads of the city with truck mounted state-of-the-art mechanical road sweeper. The sweeper conforms to global standards of emission i.e. PM10 standards. APCCI sweeps approximately 100 Km of roads per day of different stretches in the city via a route map thereby cleaning over 600 Km of roads in week.